In 2012, Revo embarked on a journey outside of Sound Horizon that would change his career forever.
Bravely Default: Flying Fairy is a traditional Japanese role-playing game that was released in Japan in 2012. Developed by Square-Enix, an esteemed video game developer made famous by creating the historically genre-defining
Final Fantasy
franchise, Bravely Default was highly anticipated from its announcement at Tokyo Game Show in 2011. Released for 3DS in October 2012, it received a lot of good press for being a return to a more classic style of Final Fantasy, yet still being incredibly fresh.
After hearing the mass support of eager fans, Nintendo decided to publish Bravely Default: Where the Fairy Flies overseas. This was an updated version of the game, called Bravely Default: For the Sequel in Japan. Bravely Default came out just one year ago in North America in February 2014, exposing Revo's music to a whole new audience of people. This topic is going to discuss and analyze the soundtrack from a musical standpoint.
Revo did a whole lot with Bravely Default. He composed 46 tracks for the original game, and the updated version included a new boss theme that was performed live in Revo's Halloween Party in October 2013. In addition, he released a single (Luxendarc Shokikou) and an album (Luxendarc Daikikou) comprised of rearranged versions of Bravely Default songs. Some were extended, while some received vocal covers. Revo had more at his disposal than ever before, as he had the privilege of working with the phenomenal Tokyo Philharmonic Orchestra. His work for Bravely Default and Square-Enix culminated with the Revo Linked BRAVELY DEFAULT Concert in Yokohama, a huge celebration of the birth of Linked Horizon and Revo's exceptional work for Bravely Default.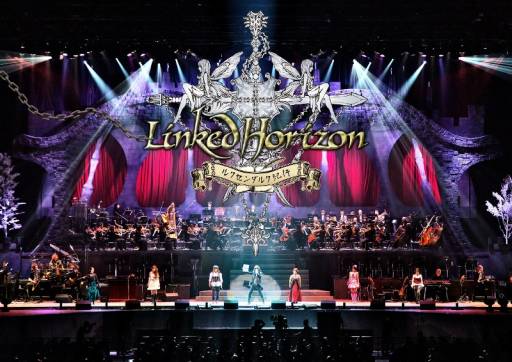 Here is a list of all the tracks in the game:
Quote :

Disc One
01 - Prelude Moving Toward Hope
02 - Eternity's Moment
03 - Facing That Prayer
04 - Four Legends
05 - Prayer
06 - Land of Beginnings
07 - Falling Asleep...
08 - Horizon of Light and Shadow
09 - Conflict's Chime
10 - Joy of Victory
11 - Silence of the Forest
12 - Beneath the Hollow Moon
13 - Visitor
14 - Signs of the Enemy Invasion
15 - That Person's Name Is
16 - Unfulfilled Dream...
17 - Infiltrating Enemy Territory
18 - World of Scattering Flowers
19 - Ship Racing Across the Ocean
20 - Land of Sand and a Large Clock
21 - Sunlight Filtering Through the Trees
22 - Cave of Darkness
23 - Fighting to the End
24 - You are My Hope
25 - Wind's Course
26 - Baby Bird
27 - Love's Vagrant

Disc Two
01 - Investigation of a Nostalgic Recollection
02 - A Crystal's Darkness
03 - A Crystal's Sparkle
04 - The Day the Wind Blew
05 - Land of Flowers
06 - Foolish Event
07 - Strained Time
08 - Depressed Land
09 - Land of Civil War
10 - Ship Soaring Through the Heavens
11 - Below the Duchy's Banner
12 - Land of Immortality
13 - Shrine Maiden's Prayer
14 - Wicked Thing
15 - Aurora of Darkness
16 - Wicked Battle
17 - Wicked Flight
18 - Serpent Eating the Horizon
19 - Ballad Moving Toward Hope
The last track, Ballad Moving Toward Hope, is the credits theme. This was a duet between Joelle (who joined Sound Horizon for IdoIdo and the 7th Story) and Revo. This was the only full vocal track in the game, which is uncommon for Revo as a composer who incorporates vocals into most of his music. The track composed for the updated release of the game is Ibitsu Naru Shinen Sono na ha Mao, commonly known as the Nemesis Ba'al Boss theme. It featured vocals from Hanayo Kimura and the children's chorus from Revo's Halloween Party.
Now let's open this topic up to everyone: What do you think of the Bravely Default soundtrack? Did you think Revo was successful in making a full soundtrack for a full-fledged video game for the first time in his career?
Personally, I absolutely love this soundtrack. It's undoubtedly what got me into Sound Horizon in the first place! As a huge fan of Final Fantasy, Bravely Default introduced me to Revo's music and dragged me into the kingdom from 2012. Its 47 tracks are of incredibly high quality. Revo paid his respects to longtime Final Fantasy composer Nobuo Uematsu's music that greatly influenced him as a composer. You can definitely tell that the Bravely Default's soundtrack was meant to replicate a certain style, but it is still so undeniably Revo's distinct sound at the end of the day. And that's what makes him an incredible composer. A lot of people had doubts if he could compose a full soundtrack, and he basically shattered all expectations that were placed on him.
My single complaint is that it's a little small for a RPG of this caliber (most RPGs of this length have soundtracks that can be up to twice as many tracks). That being said, Revo emphasized quantity over quality and it shows up and down throughout the soundtrack. I think he absolutely succeeded with flying colors--if I didn't think so, I wouldn't be sharing my thoughts here today on a dedicated Sound Horizon forum!
Please try and keep discussion about the soundtrack rather than the live concert or the Linked Horizon releases. Thanks!